High quality Human model Comprehensive centesis and Percussion examination skills Training Manikin MSL -CK810 on sale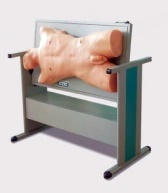 Description
The advanced comprehensive puncture and percussion examination training manikin consists of host computer and manikin.
Comprehensive puncture and percussion examination skills training are the important part of "Multimedia integrated clinical skills training laboratory system". which is the important subject of national education science "Tenth Five-Year Plan". The simulative standard patient is a young man simulator, which is prostrate position, supine position, head leans to left side; with flexible and durable material and obvious signs of bones, clavicle, costal bone, intercostal space, bellybutton, articulation of pubis, anterior superior iliac spine, sternocleidomastoid muscle, crural ligament, all these tissues are in accordance with real human anatomical position and can be touched according to anatomical knowledge and find the correct needle point.
Features:
1. The simulator can be placed in supine position, head towards left, soft texture, realistic feeling and lifelike appearance.
2. Correct anatomy includes sternocleidomastoid muscles, terna angle, xiphoid process, collarbone, ribs, anterior superior iliac spine, posterior superior iliac spine, and spinous process, etc.
3. More than 20 functions:
1) Carotid pulsation, jugular inside vein puncture, subclavian vein puncture, jugular outside vein puncture.
2) Semi-recumbent position (simulated severe patients) for thoracentesis and pneumothorax air exhaust.
3) Liver abscess puncture, find hepatic pressure pain point, voice hint to breathe training
4) Intracranial injection, pericardiocentesis.
5) Abdominal paracentesis with left and right lateral decubitus. Percussion: aeropleura position and extent, liver border of dullness , shifting dullness in abdomen.
6) Iliac bone marrow puncture.
7) Femoral artery pulse, femoral artery puncture, femoral vein puncture.
8) Sterile operation.
9) Electronic Monitoring: chest and liver puncture, the puncture needle is required to stick vertically along the upper edge of the next bit of the vertical rib. There is a voice hints when puncture wrongly.
Other models




Company files
MEDSINGLONG GLOBAL GROUP CO., LTD (MSL) engages in selling medical equipments more than 10 years, such as Ultrasound machine,Xray machine,Blood analyzer,Biochemical analyzer,veterinary equipment,Radiation protection equipment and so on. We are Supplying all kinds of medical equipments in high quality with competitive price. Whether the hospital or clinic,or for personal use,you can find your own favorite products. Therefore, lowest cost of your medical devices with good service and high quality is our goal.No the best,only better!We are ready to serve you!

If you are interested in our products,please feel free to contact us!
We are going to provide you the best price and service